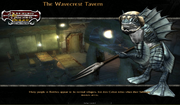 | | |
| --- | --- |
| Level | 1 |
| Zone | Korthos Village |
| NPC | Sigmund Bauerson |
| Base XP | |
| Patron | |
| Base Favor | |
| F2P? | Yes |
| Adventure Pack | N/A |
After finishing all the quests initially available in Korthos Village, you will need to talk to the guard by the gate. He will refuse to let you leave without earning the trust of his father, the barkeep in the tavern. The Collaborator quest is the first quest that will be given to you by the barkeep to earn his trust. The quest takes place right there in the bar.
You will need to kill several waves of Sahuagin, so be prepared with potions or a party. If you are a solo player, it is suggested to bring a long a hirling.
Once completed, this quest opens another from Sigmund's daughter, Vintage Old Sully's Grog.
Monsters Found Here
Edit
Named Monsters
Edit
Choose one of the following:
Tips and Tricks
Edit
Ad blocker interference detected!
Wikia is a free-to-use site that makes money from advertising. We have a modified experience for viewers using ad blockers

Wikia is not accessible if you've made further modifications. Remove the custom ad blocker rule(s) and the page will load as expected.