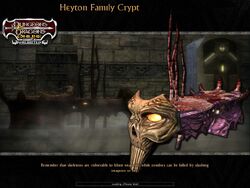 | | |
| --- | --- |
| Level | 1 |
| Zone | Korthos Village |
| NPC | Kaja Bauderdatter |
| Base XP | 313 |
| Patron | Coin Lords |
| Base Favor | 2 |
| F2P? | Yes |
| Adventure Pack | N/A |
This quest is one of the first you will be offered upon arriving to Korthos Village. You will receive the quest from Kaja Bauderdatter. The entrance is in the rock face just to the west of where Kaja is standing. It will blink on your map once you have accepted it.
Monsters Found Here
Edit
Tips & Tricks
Edit
There is one rest shrine and one resurrection shrine
You will encounter a room with a trap. You can avoid the trap by hugging the far wall, and still get the treasure the trap spews over by staying as far back as you can and open the chest.
Video Walk Thru
Edit
Ad blocker interference detected!
Wikia is a free-to-use site that makes money from advertising. We have a modified experience for viewers using ad blockers

Wikia is not accessible if you've made further modifications. Remove the custom ad blocker rule(s) and the page will load as expected.